Dawn Simmons
(Dawn for Harlem, Rent Too Damn High)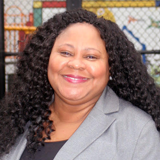 Running as Candidate for
9th City Council District
Party Enrolled In
Republican
Current Occupation
Derivatives Operations Specialist, Imperial Imprint LLC, Art and Literature Publishing Co.
Previous Occupation(s)
Social Worker, Teacher, Medical Records Clerk
Education
MA – Univ. of Santa Monica, Spiritual Psychology; MSW – Columbia Univ.; BA – Univ. of So. California, Social Sciences
Organizational Affiliations
Harlem Hospital Community Advisory Bd.; Harlem Hands Foundation; Hearts for Inmates
Prior Public Experience
N/A
Website & Social Media
What is the most important issue in Council District 9 you would address if elected?
I will make housing more affordable for renters and homeowners. Rents have been rising and homeowners and renters cannot get a break. Long time Harlem residents are getting priced out. I will work with govt., non-profits, and the private sector to build more affordable housing. I will also rein in taxes so that families are not priced out of their homes.
What other important issues would you address if elected?
I will address police-community relations, education, and jobs. I believe police officers need to create alliances with residents. Instead of stop-and-frisk, we need stop-and-talk. I will create programs similar to PAL, so the children in the neighborhood and police officers can get to know one another and find common ground. I will work to improve the quality of our children's education by promoting school choice and providing internships and exposure to business and experiential learning both within and outside of Harlem. Our children should have that exposure so they will be prepared to attend good institutions of higher education and enter the workforce.
What makes you the best candidate for this office?
I am a 4th generation Harlem resident. I love my community, but I am saddened by its steady decline. I am not a politician. I am a concerned citizen who sees both the long-term and the new residents being left behind through lack of economic opportunity and community programs and resources. I want to pair outside businesses with constituents. I am honest and believe in getting the job done in a timely manner. I have a degree in social work, I was a teacher, and I have traveled the world, training, teaching and working in Europe, India and Africa. I have worked in the financial services industry for over 20 years, which gives me the perspective needed to create jobs in Harlem.
Reprinted as supplied by the candidate. Participating in the Campaign Finance Program.
THE OFFICE OF CITY COUNCIL MEMBER
The City Council is the legislative, or law-making, branch of New York City's government. The City Council is responsible for passing local laws, making decisions about land use, overseeing city agencies, and approving the city's budget. Each Council member represents one of the 51 New York City Council districts. Council members receive an annual base salary of $148,500.
The winner of the February 14 election will fill the seat through the end of the 2017 calendar year. A primary and general election will be held this fall to fill the seat for a full four-year term starting in January 2018.