Athena Moore
(We are One)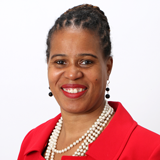 Running as Candidate for
9th City Council District
Party Enrolled In
Democratic
Current Occupation
Former Dir, Manhattan Borough President's office, Northern Manhattan
Previous Occupation(s)
Dir.,Public Policy ,Nat'l Black Leadership Comm. on HIV/AIDS, Assoc. Exec. Dir. ,Nat'l Assoc of Social Workers-NYC Chapter, Exec Dir, Black Equity Alliance at the United Way of NYC; Sr. Mgr., Federation of Protestant Welfare Agencies; Budget &Policy Analyst for Bronx Borough Pres. Fernando Ferrer
Education
B.A., at Oberlin College; M.S. Urban Policy & Management; The New School for Social Research; Columbia Univ. Senior Leaders Prog; Carnegie Mellon Univ. Int'l Affairs Fellow
Organizational Affiliations
I'm affiliated to a large number of organizations. For more details please visit: www.athenamoore.com/about. Among them are, Black Agency Executives, 125th Street Business Improv. Dist., Community Board #10, Community Education Council Dist 5; Central Harlem Sr. Citizens Ctr.; & MBPO African Immigrant Task Force;Schomburg Ctr. for Research & Culture.
Prior Public Experience
Please see Previous Occupation box
Website & Social Media
What is the most important issue in Council District 9 you would address if elected?
The most important issue in the district is housing. As a City Council Member, I will continue to deliver for the community as I have done in the past as the Dir. Manhattan Borough President's Office in Northern Manhattan. The fight for affordable housing is not an easy one, but I am ready to engage all stakeholders to get it done.
What other important issues would you address if elected?
Education. We have a lot of work ahead of us. Fixing our schools is not a one shot approach. We have a large number of stakeholders that need to come together. I will work hard to ensure our schools are successful when teaching our kids. As I've done in the past, I will continue supporting our schools so our children receive the best possible education.
What makes you the best candidate for this office?
I believe in delivering concrete results while working with others. I'm the best candidate because I can get all community sectors to work together. That is exactly what I've done in my 20 years of work in public policy, health & human services and strategic planning. I have a deep passion and commitment to public service and working for others. Focusing on others has always served me well when trying to achieve public service goals. And I will continue doing so.
Reprinted as supplied by the candidate. Participating in the Campaign Finance Program.
THE OFFICE OF CITY COUNCIL MEMBER
The City Council is the legislative, or law-making, branch of New York City's government. The City Council is responsible for passing local laws, making decisions about land use, overseeing city agencies, and approving the city's budget. Each Council member represents one of the 51 New York City Council districts. Council members receive an annual base salary of $148,500.
The winner of the February 14 election will fill the seat through the end of the 2017 calendar year. A primary and general election will be held this fall to fill the seat for a full four-year term starting in January 2018.