Larry Scott Blackmon
(Harlem Family)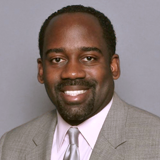 Running as Candidate for
9th City Council District
Party Enrolled In
Democratic
Current Occupation
V.P., Public Affairs-FreshDirect
Previous Occupation(s)
Deputy Commissioner, NYC Department of Parks; Chief of Staff, NYC Small Business Services
Education
Harvard Univ. Executive Program; M.P.A., Metropolitan College of New York; B.A., SUNY New Paltz
Organizational Affiliations
Alpha Phi Alpha Fraternity Inc.; Prince Hall Grand Lodge State of NY, Joppa; Coro Leadership NY; Sound Business Inc. at A. Philip Randolph Campus High School
Prior Public Experience
Special Assistant to NYC Council Speaker Miller; Deputy State Director, U.S Senator Charles Schumer
Website & Social Media
What is the most important issue in Council District 9 you would address if elected?
Education is the foundation upon which all children's success rests. I will work to ensure that all children have access to quality, supportive education no matter who they are or what school they attend. I will support programs that help at risk youth have access to educational and social services to turn their lives in the right direction. I will support critical adult and senior continuing education programs.
What other important issues would you address if elected?
Stable and affordable housing. The rights of tenants, homeowners and shareholders in coops should be protected and respected. I will support legislation to fine landlords who harass tenants and increase support services for homeowners. I vow to work with city agencies to ensure that seniors have knowledge of and access to all available services to keep them in their homes safely and affordably. I also support HDFC's as the last available homeownership option for many. Long time shareholders and newer ones should not see their equity lost or their autonomy threatened. I will also focus on health. The rates of high blood pressure, diabetes and other chronic illnesses are astronomical. I will fund organizations that promote life-long healthy lifestyles, exercise and mindful eating.
What makes you the best candidate for this office?
I was born and raised in Harlem. I know our community and am supported by Harlem's community leaders. My experience gives me the ability to hit the ground running. My high level positions in NYC government taught me how to best fight for our families' interests and my experience in budget negotiations resulted in millions of dollars for organizations in Harlem and around New York City.
Reprinted as supplied by the candidate. Participating in the Campaign Finance Program.
THE OFFICE OF CITY COUNCIL MEMBER
The City Council is the legislative, or law-making, branch of New York City's government. The City Council is responsible for passing local laws, making decisions about land use, overseeing city agencies, and approving the city's budget. Each Council member represents one of the 51 New York City Council districts. Council members receive an annual base salary of $148,500.
The winner of the February 14 election will fill the seat through the end of the 2017 calendar year. A primary and general election will be held this fall to fill the seat for a full four-year term starting in January 2018.