Welcome
Guide to the State Senate District 30 Special Election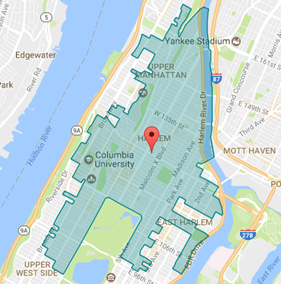 On Tuesday, May 23rd voters in Harlem, East Harlem (El Barrio), the Upper West Side, Washington Heights, Hamilton Heights, and Morningside Heights will choose a new State Senator. You do not need to belong to any political party to vote in this election. For your poll site and ballot information, visit voting.nyc.
Your vote in local elections can determine everything from the cost of housing to jobs and the economy. Get out and vote on May 23rd!
Ruben D. Vargas (Reform)    

The New York City Campaign Finance Board (CFB) maintains this Voter Guide as a public service. Candidate information on this page is collected from third parties.* Please contact press@nyccfb.info if you believe that the information contained on this webpage is inaccurate.  

* While we strive to present information that is accurate at the time of publication, the CFB is not responsible for errors, omissions, or non-working links (although we do correct or remove them to the extent practicable).
The State Senate seat in Manhattan's District 30 was vacated on February 14, 2017, when former Senator Bill Perkins was elected to represent City Council District 9, covering some of these same neighborhoods. On March 6th, Governor Andrew M. Cuomo declared a special election to fill the seat.
State senators are part of the Legislature, the law-making branch of New York's government, which is made up of the State Senate and the Assembly. Members of the Legislature introduce and vote on bills, which are then sent to the Governor to be signed into law. State senators are also responsible for confirming the governor's appointments of non-elected state officials and court judges. State senators serve two-year terms and have no term limits.
Important Election Deadlines
| | |
| --- | --- |
| April 28 | Last date of postmark for mail-in voter registration |
| May 3 | Last day to submit a change of address |
| May 13 | Last day to register to vote in person (9 am to 9 pm at the Manhattan Board of Elections – 200 Varick Street, 10th Floor, NYC, 10014) |
| May 23 | Special Election – polls open from 6 am to 9 pm |